How to structure the data of your BIM objects?
Mercadona is one of the Spanish companies with the largest presence in the AECO sector. It currently has more than 1,600 shops, 16 logistics blocks, 3 hives and several office centres in Spain and Portugal.

In order to respond to the strong pull of the market, Mercadona has found with Onfly the way to have a content manager as a repository. The chain can now manage standardisation and parameterisation criteria while being accessible to all its teams.

Find out more in this user feedback!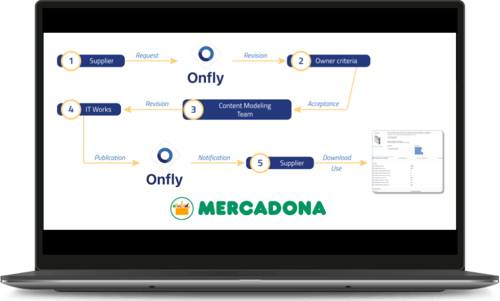 `✅ Implementation of a common database in Mercadona

✅ Context, need and objective

✅ Implementation and workflow

✅ Saving time


Víctor Malvar, IT project manager and promoter of Mercadona's digitalisation project explains why he trusted BIM&CO's vision and technological proposal.
Discover other use cases and white papers!
How to create a BIM library in 10 steps?
An indispensable guide for anyone who wants to build a solid library of BIM content in their company, in 10 useful steps.
This Revit & Onfly connector is aimed at design offices, architects and installers worldwide.

Verified conformity of BIM objects, optimised searches? Discover how to facilitate all your BIM projects!